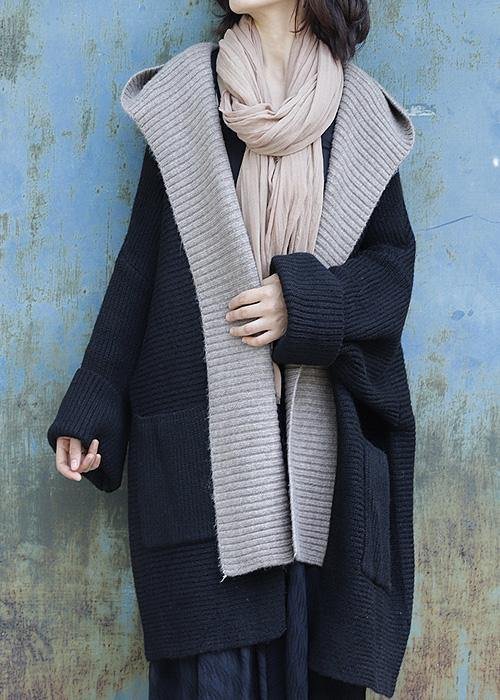 Cute black knitted outwear plus size clothing nude hooded knit sweat tops

This dress is made of cotton or linen fabric, soft and breathy.

Flattering cut. Makes you look slimmer and matches easlily.

Materials used: cotton blended

Measurement:One size fits all for this item. Please make sure your size doesn't exceed this size: BUST-150cm

bust 150cm / 58.5"
Waist 142cm / 55.38"
Armhole 48cm / 18.72"
Sleeve length 72cm / 28.08"
length 86cm / 33.54"



---

We ship worldwide.

Tracking numbers provided for all orders.
Shipping Cost
Regular Shipping: $8.99 for an order.
Free Shipping Over $99.99.
Express Shipping: $18.99 for an order.
VIP Shipping: $38 for an order.

Delivery Time

Regular Shipping :
It takes around 9 to 15 business days to US, 10 to 25 business days to Australia, Germany, France and Italy.
It may take longer than 15 business days to other countries.
Fedex/Express shipping:
Usually it takes around 3 to 9 business days.
Affected by Covid-19, there will be some delay on the delivery.
Order Processing Time:
Usually it takes around 3 to 5 business days to process your order.

But for custom made items, it may take more than 15 days.
Affected by Covid-19, there will be some delay on order processing.
Tracking number provided, so you can always locate your order
Regular Shipping tracking link: http://www.17track.net/en/
Fedex Tracking link: www.fedex.com
DHL tracking link: www.dhl.com
USPS tracking url: www.usps.com
------------------
If you have any questions or advices, please contact us at:
Email address: [email protected]
Contact name: Kate
Return is allowed for no reason.
No handling fee should be charged.
Please contact within 30 days after package delivered.
Payment Terms & Conditions:
1. We only accept payment in advance.
2. We don't accept payment by cash on delivery.
3. We accept payment by Paypal and most of the credit cards, including Visa, American Express, Diners Club, JCB, Discover and so on.
4. An order confirmation should be sent to your email address after your payment. If you don't receive the email, please contact us.
5. Payment Safety Guaranteed. If you don't receive your order or you are not satisfied with your order, you may contact us within 180 days after your payment, file a dispute via Paypal or contact your bank to start a chargeback.
6. If you have a discount code, please use the code before payment.
7. We only ship after your payment arrives. If you pay via echeck, please be sure we ship after your payment clears. But your order will be processed before payment clears.
8. Your 100% satisfaction is our goal.
How To Pay For My Order?
Paypal and Credit Cards are accepted for payment.
Please follow the guide below to finish the payment:
1. Visit the cart.
2. Click the "check out" button.
3. Here you could choose pay by Paypal or credit card.
a. If you would like to check out by Paypal(Paypal allows payment by credit card directly with no account), please click the yellow Paypal button to finish payment.
Payment by Paypal: You could also check out in the product page for the item you want:
b. If you would like to pay by Credit Card:
Please fill the address info and click "continue to shipping" button
4. Choose your shipping menthod and go on:
5. Choose payment method and go on
6. Fill in the correct card info and finish payment.
----------------------------------------------------------------------------
Paypal also accept payment by credit cards. If you would like to
1. PayPal
If you have a PayPal account, you can pay directly by logging into your PayPal account.

2. Credit cards :
If you do not have a PayPal account, please pay with PayPal accepted credit cards. PayPal accepts credit cards are: Visa, Mastercard, American Express, Discover and Maestro,ect.
Visa, Mastercard, American Express, Discover and Maestro,ect.


How to use credit card payment via Paypal ?

You will need to choose "paypal" as payment option.

Once you get redirected to PayPal, just follow the guide:

1. Make sure the "Don't have a PayPal account?" option is selected

If your PayPal page looks as follows, just click on "Don't have a PayPal account?".






2. Enter your credit card's info

Address, email & phone number may also be requested depending on your country.

When you are done, click on "Review and Continue".

Enter your credit card's info

3. Click on "Pay Now"


4. Click on "No, Thanks"


5. Finally, click on "Pay now" you will complete your payment